HAIKU aims to pave the way for human-centric AI in the aviation domain.
Our challenge is to deliver truly human-centric AI-based Intelligent Assistant prototypes, capable of integrating human values, needs, abilities and limitations. These Intelligent Assistants will dynamically learn from human users and continuously evolve over time.

To successfully achieve our challenge, HAIKU pays special attention to the safety, security and ethics aspects of IA-based Intelligent Assistants. The impact on the future workforce will also be studied.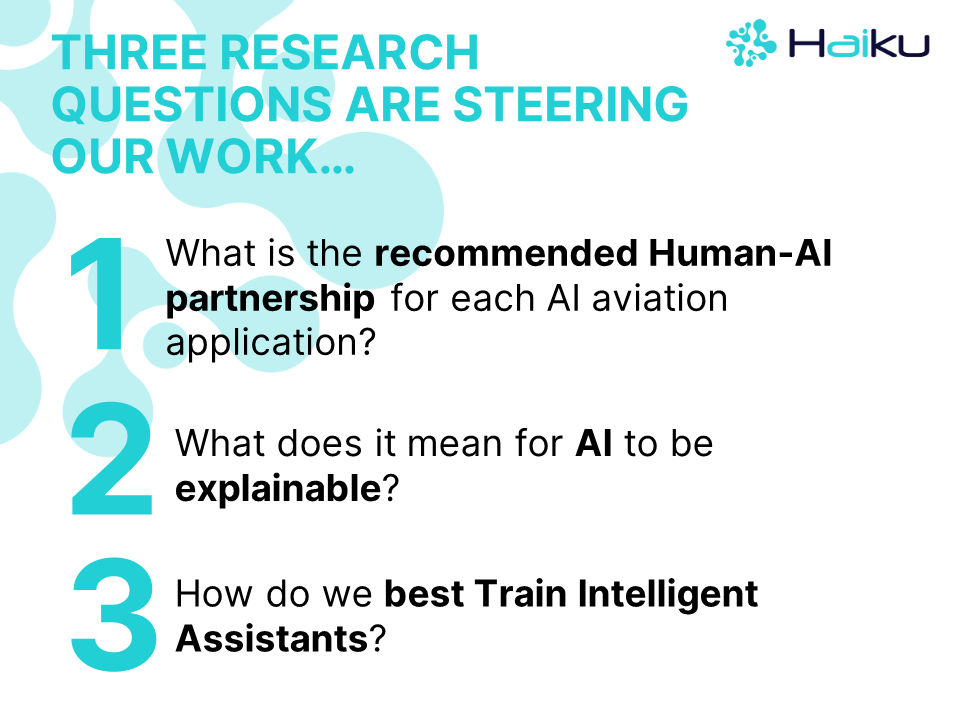 The following main outputs are foreseen:
Guidelines and methods for developing safe, effective, and trustworthy Intelligent Assistants for Aviation using Human Factors Design ('HF4DA' Capabilities)


A set of aviation use cases – controlled experiments with high operational relevance – illustrate the Intelligent Assistant's tasks, roles, autonomy, and team performance in normal and emergency situations


A method for early integration of Intelligent Assistants by aviation stakeholders and regulatory authorities to enhance safety and validation of aviation systems


Engaging relevant stakeholders – including policy makers, professional associations, passengers associations, and the general public – to deliver guidance on socially acceptable IA in safety-critical operations and to maintain aviation's strong safety culture.